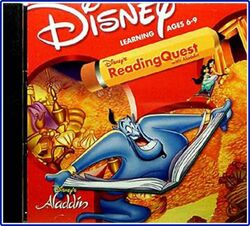 Disney's ReadingQuest with Aladdin is a 1998 computer game featuring the characters from Aladdin. The game features the characters from the film taking the user on an adventure, to the world of reading and literacy.
Summary
Children learning to read can get assistance from some of Disney's most beloved characters in Disney's ReadingQuest With Aladdin. Genie, Jasmine, Iago, Abu, and Aladdin are there to provide helpful hints and guide children through 12 activities designed to improve comprehension, phonics, vocabulary, and spelling. Each activity is designed to immerse kids in the world of Alladin, and the three levels of difficulty provide an increasing challenge as children improve their reading skills.
Gallery
Ad blocker interference detected!
Wikia is a free-to-use site that makes money from advertising. We have a modified experience for viewers using ad blockers

Wikia is not accessible if you've made further modifications. Remove the custom ad blocker rule(s) and the page will load as expected.