Ad blocker interference detected!
Wikia is a free-to-use site that makes money from advertising. We have a modified experience for viewers using ad blockers

Wikia is not accessible if you've made further modifications. Remove the custom ad blocker rule(s) and the page will load as expected.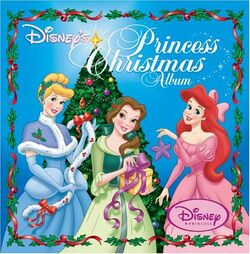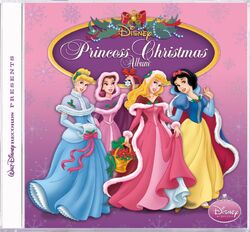 Disney's Princess Christmas Album is a Christmas album based on the Disney Princess franchise, originally released on October 11, 2005. As the title suggests, it features Christmas songs sung by the Disney Princess characters.
The album was released again, under the slightly different title of Disney Princess Christmas Album, on September 29, 2009. The track listing of the 2009 release is more or less the same as the original release, except that the last song of the original release is replaced by a new song at the beginning.
Track list
2005 release
2009 release
| # | Song | Sung by |
| --- | --- | --- |
| 1 | Christmas Eve Dinner | Snow White |
| 2 | Christmas is Coming | Jasmine |
| 3 | Have a Holly Jolly Christmas | Snow White |
| 4 | I'm Giving Love for Christmas | Cinderella |
| 5 | Christmas in the Ocean | Ariel |
| 6 | It's the Most Wonderful Time of the Year | Cinderella |
| 7 | Silver and Gold | Pocahontas |
| 8 | Holidays at Home | Belle |
| 9 | The Holly and the Ivy | Mulan |
| 10 | The Christmas Waltz | Belle |
| 11 | Ariel's Christmas Island | Ariel |
| 12 | Christmas with My Prince | Aurora |
| 13 | The Night Before Christmas | Snow White |
| 14 | The Twelve Days of Christmas | Ariel |