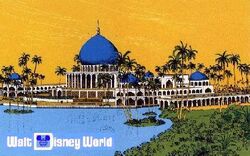 Disney's Persian Resort was a themed hotel planned for Walt Disney World in Lake Buena Vista, Florida. Due to the 1973 oil crisis, the project was cancelled, along with Disney's Venetian Resort and Disney's Asian Resort. Curiously, forms from 1978 showed that the Shah of Iran, Mohammad Reza Shah Pahlavi offered to fund the project's construction and operation but after the Iranian Revolution the project was permanently shelved due to Ruhollah Khomeini's hostility toward the United States. The resort was to be located on the shores of Bay Lake, not the Seven Seas Lagoon like the rest of the resorts. The early drawings would have had a monorail spur going to it and through Tomorrowland.
Part of the monorail spur was built, and is used to access the monorail barn. The resort's proposed site was cleared during initial construction of the park, and is now used as cast member parking.
Theme
The resort would have been laid out in a circle with a central building. It would have had a 24 foot dome on the main building which would have housed the entrance area and meeting facilities. The main colors would have been white and blue.
Facts
Category: Deluxe
Theme: Iran
Location: West side of Bay Lake (never built)
| | |
| --- | --- |
| | This page uses content from the English Wikipedia. The article or pieces of the original article was at Disney's Persian Resort. The list of authors can be seen in the page history. As with Disney Wiki, the text of Wikipedia is available under the GNU Free Documentation License. |