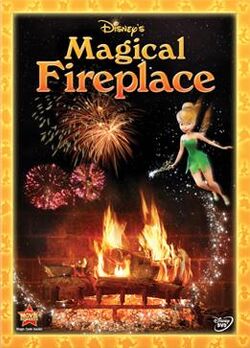 Disney's Magical Fireplace
is a Christmas DVD Released in
2009
. It includes a short animated introduction.
Description
There's nothing like gathering your family around a roaring fire during the holidays. But what would happen if you added a little Disney magic? Introducing Disney's Magical Fireplace, a virtual fireplace that's the next best thing to a real fire and a whole lot more fun!
Filled with Disney Magic, it's nothing you've ever seen before! Look for hidden Mickeys and other favorite Disney characters as they mysteriously appear in the shadows. Everyone will "ooh" and "aah" as the glowing red flames dance to a symphony of fireworks, shimmering colors and spectacular surprises like only Disney can bring. How many classic Disney characters can you find? Choose from classic holiday music, with two beloved songs performed by Disney characters, or the snap, crackl and pop of a roaring fire!
Tracks
12 Days Of Christmas performed by Disney characters
Joy To The World instrumental
Jingle Bells instrumental
Good King Wenceslas
The Holly And The Ivy
Jolly Old St. Nicholas
We Wish You A Merry Christmas instrumental
What Child Is This?
Little Christmas Bell
Jolly Old St. Nicholas vocal
Sleighbells In The Snow instrumental
O Christmas Tree
Silent Night Vocal
God Rest Ye Merry Gentlemen
Winter Sleigh Ride
Joy To The World
The First Noel
Jingle Bells jazz instrumental
We Wish You A Merry Christmas kids vocals
Hark The Herald Angels Sing instrumental
Sweet Christmas Bells
O Holy Night vocal
The Holly And The Ivy classical instrumental
Ding Dong Merrily On High instrumental
Silent Night choral
Deck The Halls performed by Disney characters
Ad blocker interference detected!
Wikia is a free-to-use site that makes money from advertising. We have a modified experience for viewers using ad blockers

Wikia is not accessible if you've made further modifications. Remove the custom ad blocker rule(s) and the page will load as expected.