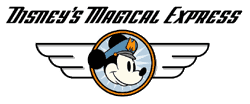 Disney's Magical Express is a private ground transportation and luggage service delivery for Walt Disney World operated by Mears Transportation. The service is complimentary and is only available to guests with reservations at Walt Disney World Resort hotels.
Service
The Disney's Magical Express service can be booked via phone when making a room reservation at a Walt Disney World resort hotel. Guests must be arriving at the Orlando International Airport in order to utilize the service. Guests receive an information packet and luggage tags via postal mail prior to departing on their vacation. The luggage tags are used to identify incoming luggage at Orlando International Airport and specify which resort and guest name the luggage is to be delivered to. After landing, guest luggage are delivered directly to the guest room.
Disney's Magical Express is a sister system to the Disney Cruise Line transportation system that transports guests from the airport or their hotel to the seaport for their Disney Cruise. These buses are also run by Mears Transportation and are sometimes used as Disney's Magical Express buses during peak times.
Participating Airlines
AirTran
Alaska Airlines
American Airlines
Delta Air Lines
Gulfstream International Airlines
JetBlue
KLM Royal Dutch
Southwest Airlines
United-Continental Airlines (United and Continental)
US Airways
Virgin America