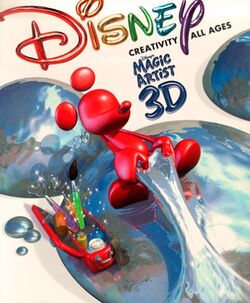 Disney's Magic Artist 3D is a 2000 Disney CD-ROM game. It is a 3D version of Disney's Magic Artist.
Product Description
Disney's Magic Artist 3D is an entertaining, fun, and easy 3-D art tool for the kid in everyone. Create your own 3-D characters, scenery, or objects and morph them any way you like. Choose the color, the texture, the camera angle, and set your creation in motion. You can save your masterpiece as a movie, greeting card, or postcard--or even export them to your home page. Just pick a shape or draw your own freehand in real 3-D. Twist, squash, splash, spatter, and smooth your shapes into amazing 3-D objects. Resize, spin, pull, and push, like using your fingers to shape putty. Scan in photographs and mold them onto objects. Change their textures into wood, clay, and metal. Pick patterns such as translucent stars or huge polka dots. Animate your creation simply by dragging the mouse across your 3-D objects. You can save it as a movie, a greeting card, or a postcard--or post your creations on your Web page.
Gallery
Ad blocker interference detected!
Wikia is a free-to-use site that makes money from advertising. We have a modified experience for viewers using ad blockers

Wikia is not accessible if you've made further modifications. Remove the custom ad blocker rule(s) and the page will load as expected.