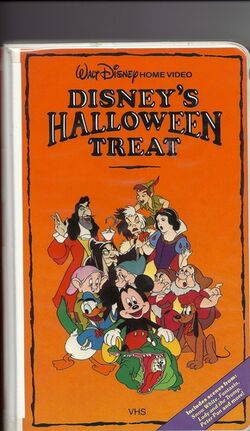 "Disney's Halloween Treat" is a 47-minute Halloween-themed clip show which first aired on The Wonderful World of Disney in 1982 and featured a compilation of Disney animated shorts involving spooky or supernatural themes as well as excerpted segments from Disney feature films. The credits also featured footage from the Haunted Mansion ride. It was narrated by a jack o'lantern puppet, which was also used in an educational short to talk about Halloween safety called "Disney's Haunted Halloween". The opening and closing credits feature an orange colorized version of the 1929 Silly Symphonies short "The Skeleton Dance", as well as its own theme song, sung in the credits. The lyrics were written by Galen R. Brandt with music by John Debney.
It was shown throughout the 1980s up until the mid 1990s. It was also released on VHS in 1984, but has not been released on DVD.
Segments
| | |
| --- | --- |
| | This page uses content from the English Wikipedia. The article or pieces of the original article was at Disney's Halloween Treat. The list of authors can be seen in the page history. As with Disney Wiki, the text of Wikipedia is available under the GNU Free Documentation License. |
Ad blocker interference detected!
Wikia is a free-to-use site that makes money from advertising. We have a modified experience for viewers using ad blockers

Wikia is not accessible if you've made further modifications. Remove the custom ad blocker rule(s) and the page will load as expected.