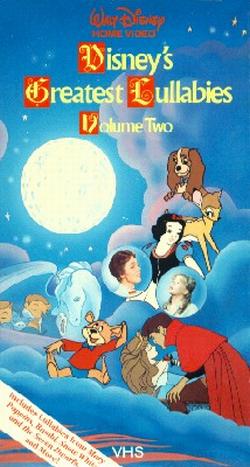 Disney's Greatest Lullabies is a 2-volume collection of lullabies and songs from Disney films that are suitable for bedtime. They were released in January 28, 1986.
Product Description
Soothing refrains from masterfully crafted shorts and features you come to know and love. The most poignant, precious moments from the vast Disney library presented in this enchanted series. Certain to turn any child into a Sleeping Beauty--the best lullabies in the world--from Disney!
Ad blocker interference detected!
Wikia is a free-to-use site that makes money from advertising. We have a modified experience for viewers using ad blockers

Wikia is not accessible if you've made further modifications. Remove the custom ad blocker rule(s) and the page will load as expected.