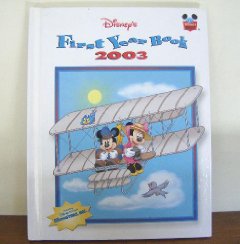 Disney's First Year Book 2003 is a Disney's Wonderful World of Reading book made for the year 2003.
Description
CONTENTS: 100 Years of Flight "B" Is for Butterfly Scared Silly Making a Moster Why Animals do What They Do Briard Rose to the Rescue Silly Scarecrows Birtday Gems The treasure Hunters Tinker Bell's Wand Crazy About yo-yos! Animal Lullaby The Magic of Friendship Hungry Plant, Poor Ant Catch the wind The Last Laugh.
Details
Hardcover
Publisher: SCHOLASTIC (2003)
Language: English
ISBN-10: 0717211061
ISBN-13: 978-0717211067
Ad blocker interference detected!
Wikia is a free-to-use site that makes money from advertising. We have a modified experience for viewers using ad blockers

Wikia is not accessible if you've made further modifications. Remove the custom ad blocker rule(s) and the page will load as expected.