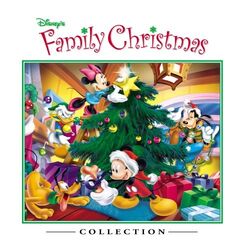 Disney's Family Christmas Collection is a 2008 Walt Disney Records album featuring Disney versions of Christmas songs.
Details
Audio CD (December 9, 2008)
Number of Discs: 1
Label: Walt Disney
ASIN: B0000DBJ9O
In-Print Editions: MP3 Music
Track listings
Jingle Bells - Mickey & His Friends
Frosty the Snowman - Jeff Gunn
Joy to the World - Larry Groce
Deck the Halls - Mickey Mouse and The Gang
We Wish You A Merry Christmas - The Disney Holiday Chorus
Sleigh Ride - Larry Groce
Here Comes Santa Claus - Larry Groce
Hark! The Herald Angels Sing - The Disney Holiday Chorus
The Santa Wrap - Rayvon
Winter Wonderland - The Disney Holiday Chorus
The Science of the Season - Ludwig Von Drake
Jolly Old St. Nicholas - Anndi McAfee
Bring a Torch Jeannette, Isabella - The Disney Holiday Chorus
Carol of the Bells - The Disney Holiday Chorus
Silent Night - Catherine Lucille
What Child Is This - Chris Martin
Away in a Manger - Terry Wood
Oh Come All Ye Faithful - The Disney Holiday Chorus
Rare Old Christmas - Ed Miller
Angel Time - Chris Martin
Ad blocker interference detected!
Wikia is a free-to-use site that makes money from advertising. We have a modified experience for viewers using ad blockers

Wikia is not accessible if you've made further modifications. Remove the custom ad blocker rule(s) and the page will load as expected.