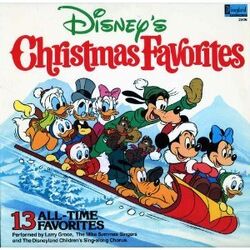 Disney's Christmas Favorites is a 1979 Disneyland Records LP album featuring Disney versions of Christmas songs. The songs are performed by Larry Groce, the Mike Sammes Singers, and the Disneyland Children's Sing-along Chorus, and the backing instrumentals are by the Golden Strings.
Editorial Reviews
1979 Disneyland DL2506. Great cover art of all of your favorite Disney characters. Includes: White Xmas, Rudolph, We Wish U A Merry Xmas, Winter Wonderland, Jolly Old St Nick, Do You Hear What I Hear?, O Xmas Tree, Frosty, Jingle Bells, Deck the Halls, Little Drummer Boy, Santa Claus is Coming to Town, Silent Night.
Track listings
White Christmas
Rudolph the Red-Nosed Reindeer
We Wish You a Merry Christmas
Winter Wonderland
Jolly Old Saint Nicholas
Do You Hear What I Hear?
O Christmas Tree
Frosty the Snow Man
Jingle Bells
Deck the Halls
Little Drummer Boy
Santa Claus is Coming to Town
Silent Night
Trivia
The following tracks have been released as instrumental versions by the Golden Strings on non-Disney Christmas albums: "White Christmas," "Winter Wonderland," "Jolly Old Saint Nicholas," "O Christmas Tree," "Frosty the Snow Man" and "Silent Night."