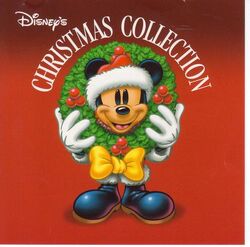 Disney's Christmas Collection is a 1995 Walt Disney Records featuring Disney versions of Christmas songs.
Track listings
"From All Of Us To All Of You"
"We Wish You A Merry Christmas"
"O Christmas Tree"
"Here We Come A-Caroling"
"Jingle Bells"
"Away In A Manger"
"Silent Night"
"'Twas The Night Before Christmas"
"Hark The Herald Angels Sing"/"O Little Town Of Bethlehem"/"O Come All Ye Faithful"
Ad blocker interference detected!
Wikia is a free-to-use site that makes money from advertising. We have a modified experience for viewers using ad blockers

Wikia is not accessible if you've made further modifications. Remove the custom ad blocker rule(s) and the page will load as expected.