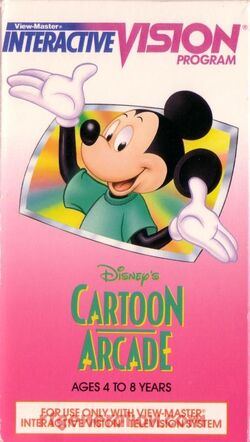 Disney's Cartoon Arcade is a 1988 game by Cliff Johnson created by Walt Disney Home Video for use on the View-Master Interactive Vision system. Designed as a 30-minute gameshow, the player could watch classic Disney cartoon video clips and then play 10 different arcade games based on those clips. The View-Master InteractiveVision System was the earliest attempt to commercially combine video and computer imagery on your home television. By cabling the system between your VCR and TV, the unit was able to provide a video background layer with computer-generated foreground layer.
The game is hosted by Ludwig Von Drake (voiced by Corey Burton), using stock footage of his appearances.
| | |
| --- | --- |
| | This page uses content from the English Wikipedia. The article or pieces of the original article was at Disney's Cartoon Arcade. The list of authors can be seen in the page history. As with Disney Wiki, the text of Wikipedia is available under the GNU Free Documentation License. |
Ad blocker interference detected!
Wikia is a free-to-use site that makes money from advertising. We have a modified experience for viewers using ad blockers

Wikia is not accessible if you've made further modifications. Remove the custom ad blocker rule(s) and the page will load as expected.