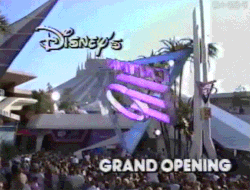 Disney's Captain EO Grand Opening is a 1986 Disney television special that originally aired on September 20, 1986 to commemorate the opening of Captain EO at Disneyland and Walt Disney World.
It is hosted by Patrick Duffy and Justine Bateman with a flotilla of stars from the era, including Belinda Carlisle and The Moody Blues.
Cast
Patrick Duffy ... Host
Justine Bateman ... Herself
Belinda Carlisle ... Herself
Robert Palmer
Smith Wordes ... Dancer
Crew
Produced by: Michael Petok (associate producer)
Sound Department: Ken Dufva (foley artist)
Ad blocker interference detected!
Wikia is a free-to-use site that makes money from advertising. We have a modified experience for viewers using ad blockers

Wikia is not accessible if you've made further modifications. Remove the custom ad blocker rule(s) and the page will load as expected.