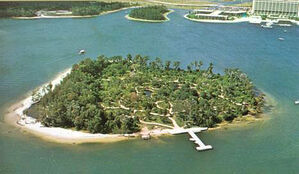 Not to be confused with Animal Kingdom's area, which bears the same name.
Discovery Island was a zoological park lying on an island in the middle of Bay Lake, behind the Contemporary Resort at Walt Disney World, Florida. It was closed shortly after the opening of Disney's Animal Kingdom.
History
The island had a history long before Disney's involvement. Originally known as Raz Island, named after the family that once lived on it. Later it was bought out and named Riles Island and used as a hunting retreat. Then in 1965 Disney bought the island as part of it's strategic property acquisition which would later become Walt Disney World.
When the park opened, it was renamed Treasure Island, with boats offering free passage to it's docks, it had nature trails to show off endangered species, in which the island helped repopulate. After it's recognition as a zoological park it was renamed Discovery Island, and was actually home of the last dusky seaside sparrow before it died in 1987. All the animals were moved to Disney's Animal Kingdom shortly before it's opening, and the island was left closed and abandoned.
There was only one plan to bring it back, Disney teamed up with the developers of Myst to develop a cutting edge experience known as Myst Island, however, the plans never got through it's concept stage.
The structures on the island can still be seen today, but very hard to see due to the overgrowth of vegetation. The island itself can easily be seen from upper floors of Disney's Contemporary Resort and Fort Wilderness Lodge.
The central hub at Disney's Animal Kingdom shares it's name with the island, most likely because the whole area is a spiritual successor to the island itself.
Attractions
Trumpeter Springs - trumpeter swans
Parrots Perch - The Discovery Island Bird Show, featuring macaws, cockatoos, and other trained birds.
Bamboo Hollow - lemurs from Madagascar.
Cranes's Roost - demoiselle cranes
Avian Way - The United States' most extensive breeding colony of scarlet ibis
Pelican Bay - brown pelicans
Flamingo Lagoon - flamingos
Tortoise Beach - five Galápagos tortoises