"Diogee, go home! He's not suppose to be in/at the [name of location]."
"Diogee" is Milo's dog in the Disney XD animated series, Milo Murphy's Law.
Appearance
Diogee is a small dog with a slightly rounded body and a small tail. He is primarily colored cream, with a spot on his back and his nose being brown.
Trivia
Diogee's name is pronounced the same as the letters "D-O-G", which spell "dog", the species Diogee belongs to.
Gallery
v - e - d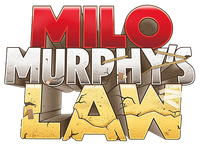 Locations
Swamp City • Jefferson County Middle School • Lard World
Ad blocker interference detected!
Wikia is a free-to-use site that makes money from advertising. We have a modified experience for viewers using ad blockers

Wikia is not accessible if you've made further modifications. Remove the custom ad blocker rule(s) and the page will load as expected.