"Diogee, go home! He's not supposed to be in/at the [name of location]."
Diogee Exmachina Murphy[1] is Milo's dog in the Disney XD animated series, Milo Murphy's Law.
Appearance
Diogee is a small dog with a slightly rounded body and a small tail. He is primarily colored cream, with a spot on his back and his nose being brown.
Trivia
Diogee's name is pronounced the same as the letters "D-O-G", which spell "dog", the species Diogee belongs to.
Diogee is one quarter llama dog, which according to Milo means he can herd llamas like a sheep dog can herd sheep. ("It just doesn't come up very often.") Diogee can also understand Spanish, having attended at least one of Milo's Spanish classes in school. ("The Llama Incident")
His middle name is "Exmachina". It quite likely comes from the Latin phrase "deus ex machina", which has come to mean a plot device that suddenly (even abruptly) solves a problem. ("Missing Milo")
Gallery
References
v - e - d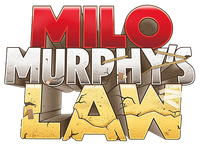 Locations
Swamp City • Jefferson County Middle School • Lard World