Dink Trout was an American radio actor. He voiced several Disney characters from 1947 to 1950, he also regulary featured in Radio dramas and appeared in a few live action films.
Biography
Dink Trout was born as Francis Trout in 1898 in Illinois. He began his career voicing characters in American radio shows. His most famous radio roles were as Mr. Anderson in the Dennis Day Show and as Luke Spears in Lum and Abner.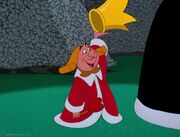 In
1937
he made his first film appearance in Under Your Spell. Later in
1941
he appeared in Scattergood Baines as Plinky Pickett. Trout reprised this role for the next two films in the Scattergood Baines chronology. He made several other film appearances throughout his life, though he was generally uncredited. In
1947
he voiced the title role in Disney's
Bootle Beetle
. For the next three years, he continued to voice
Disney characters
. His final film was Disney's
Alice in Wonderland
where he played the role of the
King of Hearts
. He died in
1950
, in
Hollywood
, shortly before the film was released.
Filmography
Disney Films
Other Films
Credited
Scattergood Baines

Scattergood pulls the Strings

Miss Polly

Cinderella Swings It
​Uncredited
Under Your Spell
Gildersleeves Bad Day
It's a Great Life
Up in Arms
The Doughgirls
Irish Eyes Are Smiling
A Tree Grows in Brooklyn
Sudan
The Horn Blows at Midnight
Notorious