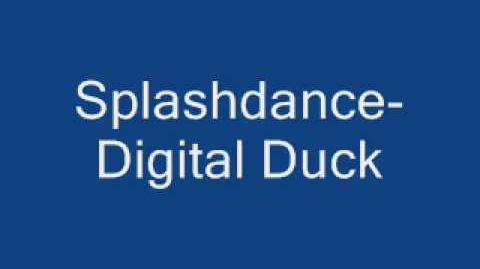 "Digital Duck" is the third track on the 1983 album Mickey Mouse Splashdance.
Lyrics
Sorry everybody

I'm not home

Please leave a message

At the sound of the tone


Gizmos and gadgets

Electric devices

A microwave blender that cuts, chops, and dices

Chocolate detectors

Alarms that go boom

Donald has dozens in every room


CHORUS

He's a d-d-d-d-digital duck

A d-d-d-d-digital duck

Donald loves his gadgets

Even though they run amok

He's a d-d-d-d-digital duck


His marshmallow toaster

Croaks as it spins

Games he can play

The games always win

Gravity sandals to climb up the walls

Switches a switch that do nothing at all


CHORUS


Widgets and wadgets

Digital gadgets

You switch 'em and bat 'em

Flip 'em and fight 'em

Magnets with motors

Robots with rotors

You name it, he's got it

If he doesn't, he'll get it


CHORUS


CHORUS (higher)

Ad blocker interference detected!
Wikia is a free-to-use site that makes money from advertising. We have a modified experience for viewers using ad blockers

Wikia is not accessible if you've made further modifications. Remove the custom ad blocker rule(s) and the page will load as expected.