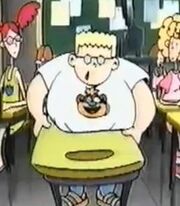 Dieter Lederhosen[1] (voiced by Jeff Bennett)[2][3] is an obese German kid who attends Hazelnut Middle School. He is also in the same grade and classes as Pepper Ann, Nicky Little and Milo Kamalani. He is seen talking to Pepper Ann outside Hazelnut in some episodes. In "Have You Ever Been Unsupervised" he is having a thirteenth birthday party, which will be unsupervised.
Episode Appearances
Gallery
References
Ad blocker interference detected!
Wikia is a free-to-use site that makes money from advertising. We have a modified experience for viewers using ad blockers

Wikia is not accessible if you've made further modifications. Remove the custom ad blocker rule(s) and the page will load as expected.