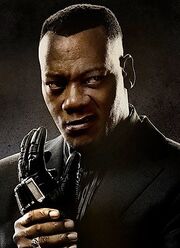 Diamondback
is the name of two
Marvel Comics
supervillains, one male and one female.
The male Diamondback, Willis Stryker, appears in Luke Cage, played by Erik LaRay Harvey. He has no superpowers, but he is a master knife thrower, and is armed with a wide variety of high-tech knives.
The female Diamondback, Rachel Leighton, appeared in Marvel Disk Wars: The Avengers. She doesn't have superpowers either, but she has an arsenal of high-tech diamonds and is a skilled martial artist and tactician, and a brilliant criminal mind.