Ad blocker interference detected!
Wikia is a free-to-use site that makes money from advertising. We have a modified experience for viewers using ad blockers

Wikia is not accessible if you've made further modifications. Remove the custom ad blocker rule(s) and the page will load as expected.
Destructor is the main antagonist of the Wander Over Yonder episode "The Epic Quest of Unfathomable Difficulty!!!". He rules his kingdom with an iron fist up until Wander and Sylvia returns him his sock, upon which he becomes good again.
Physical Appearance
As a good guy, Destructor wears golden armour with a halo on top of his head. His face is pinkish, has blue eyes and spiky teeth.
As a bad guy, his armour is all black, his face becomes a pale blue and the halo dispersal is replaced by blue fire.
The same appearance change happened when he was a baby.
Appearances
v - e - d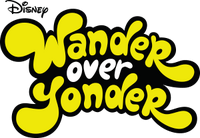 Locations
Lord Hater's Spaceship | Binglebopolopolis | Doomstone | Baaaaa-halla | Phunulon | Ballzeria | Buster | Doom Arena | Planet Ziziks | Flendar | Lord Dominatior's Spaceship | Arachnomorph Homeworld
Organizations/Groups
Insurgent Generals | Wander and Sylvia | Bounty Hunters | Lord Dominator's Army | Galactic Villain Leaderboard