"Defending the Earth" is the twelfth episode of the first season of Penn Zero: Part-Time Hero. It premiered on March 16, 2015.
Synopsis
Boone finds himself on the most popular game show in the galaxy where he must compete against Rippen in an outrageous contest that will determine the fate of the Earth.
Trivia
Outer Space Court Live references reality game shows and court shows.
Purple people tribe members and the Death Eater from "That Purple Girl", and aliens and Flurgle from "Flurgle Burgle", appear in the background.
Another fear of Boone's, public speaking, is revealed and dealt with in this episode, the previous fear being water in "Chicken or Fish?"
The credits at the end of the episode are in an alien language.
It is revealed that Sashi know a lot about politics. 
v - e - d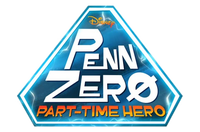 Locations
Middleburg • Middleburg Central High • The Odyssey • Fish Stick on a Stick • North Pole • Knight World • Superhero World • Arabian World • Plush Toy World • Clown World • Dinosaur Cowboy World • Cereal World • Old English World • Giant Monster World • Zombie World • Space World • Ocean World • Color World • Musical Fairy Tale World • Caveman Spy World • Future Barbarian World • Ultrahyperball World • Demon World • Alien World • Galaxy World • Temple World • Dragon World • Gothic Mystery World • Plant World • Animal Barbarian World • Toy World • Outer Space Court World • Robot World • Pirate World • Fairymania World • Steampunk World • Ball World • Ghost World • Rock, Paper, Scissor World • Beast World • Anime World • Sitcom World • Nothingness • Most Dangerous World Imaginable • Least Dangerous World Imaginable
Objects
Multi-Universe Hologram Uplink • Multi-Universe Transprojector • Pigoilet • The QPC Unit • Vortex Tops • Specs