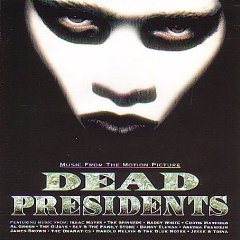 Dead Presidents is the first of two soundtracks to the 1995 film, Dead Presidents. It was released on September 26, 1995 through Capitol Records and consisted of 1970s R&B, funk and soul music. The soundtrack was very successful, making it to #14 on the Billboard 200 and topping the Top R&B/Hip-Hop Albums at #1, and was certified gold on December 1, 1995. The soundtrack's success led Capitol Records to releasing a second volume the following year.
Track listing
"If You Want Me To Stay", by Sly & The Family Stone
"Walk On By", by Isaac Hayes
"The Payback", by James Brown
"I'll Be Around", by The Spinners
"Never Never Gonna Give You Up", by Barry White
"I Miss You", by Harold Melvin & The Blue Notes
"Get Up & Get Down", by The Dramatics
"(Don't Worry) If There's a Hell Below, We're All Going to Go", by Curtis Mayfield
"Do Right Woman, Do Right Man", by Aretha Franklin
"Where Is The Love", by Jesse & Trina
"Tired Of Being Alone", by Al Green
"Love Train" by The O'Jays
"The Look Of Love", by Isaac Hayes
"Dead Presidents Theme" by Danny Elfman
| | |
| --- | --- |
| | This page uses content from the English Wikipedia. The article or pieces of the original article was at Dead Presidents (soundtrack). The list of authors can be seen in the page history. As with Disney Wiki, the text of Wikipedia is available under the GNU Free Documentation License. |
Ad blocker interference detected!
Wikia is a free-to-use site that makes money from advertising. We have a modified experience for viewers using ad blockers

Wikia is not accessible if you've made further modifications. Remove the custom ad blocker rule(s) and the page will load as expected.