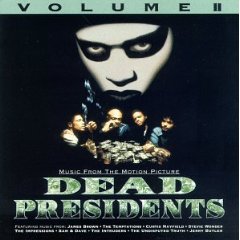 Dead Presidents, Vol. 2 is the second soundtrack released to the film, Dead Presidents. It was released on April 2, 1996 through Capitol Records and like the first consisted of 1970s era funk and soul music. After the success of the first soundtrack, Capitol Records decided to release a second soundtrack, however, this one failed to match the success of the first, only making it to 45 on the Top R&B/Hip-Hop Albums.
Track listing
"I Got the Feelin'", by James Brown
Keep on Pushin'", by the Impressions
"Smiling Faces Sometimes", by the Undisputed Truth
"Right on for the Darkness", by Curtis Mayfield
"Just My Imagination (Running Away with Me)", by the Temptations
"Cowboys to Girls", by The Intruders
"Never Gonna Give You Up", by Jerry Butler
"I Was Made to Love Her", by Stevie Wonder
"(Man Oh Man) I Want to Go Back", by the Impressions
"When Something Is Wrong with My Baby", by Sam & Dave
"We the People Who Are Darker Than Blue", by Curtis Mayfield
"Ain't That a Groove", by James Brown
| | |
| --- | --- |
| | This page uses content from the English Wikipedia. The article or pieces of the original article was at Dead Presidents, Vol. 2. The list of authors can be seen in the page history. As with Disney Wiki, the text of Wikipedia is available under the GNU Free Documentation License. |
Ad blocker interference detected!
Wikia is a free-to-use site that makes money from advertising. We have a modified experience for viewers using ad blockers

Wikia is not accessible if you've made further modifications. Remove the custom ad blocker rule(s) and the page will load as expected.