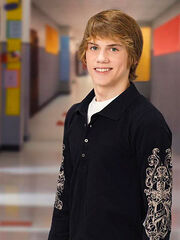 Daniel "Danny" Neilson
 (played by Tony Oller in 
As the Bell Rings
). Danny is
Toejam and 
Skipper Adamson
's best friend. Danny is always focused in music and dreams of becoming a huge pop-star. Danny is a good musician and often writes songs in his spare time. Although he likes music and singing, he never had thought of creating music videos until Lexi inspired him to do so.
Character Story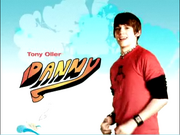 Danny is one of the main characters. He and Charlotte have a very shy, romantic relationship, as he is often crushing on Charlotte and getting her help. He is the most normal out of the three boys and is best friends with Skipper and Toejam. His talents include singing and songwriting. In Season 2, though dismayed that Charlotte moved, he meets the new girl, Lexi, whom he realizes that he knows from his childhood. Since Charlotte moved away his friends have told him to "move on". Danny uses Lexi to show his friends that he is better off without Charlotte, even though he still has strong feelings for her. Eventually he breaks up with Lexi because he can't truly get over Charlotte's departure.
Romantic Life
Charlotte Adams
Danny always wanted to win Charlotte's heart. The two often bonded over their interests in music and were often shy and nervous when in each others presence. After she moved, Danny could never get over that Charlotte left.
Lexi Adams
The new girl who arrived after Charlotte's departure, Lexi, would always give him hints that she likes him, but Danny never realized this. His song, Could You Be the One contains lyrics created by Lexi and is also dedicated to her.
Trivia
Many girls are attracted to Danny, but he doesn't take much interest in this.
As stated by Lexi, Danny used to take flute lessons when he was younger.