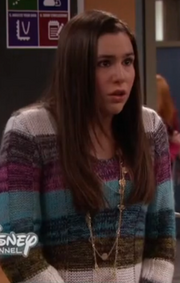 Danica Bricker
is a character from the 
Disney Channel Original Series
, 
I Didn't Do It
. She is portrayed by Savannah Lathem.
Physical Appearance
She has brown hair and brown eyes.
Personality
She is a shy type of person when confronting her feelings but can be intimidating.
Biography
Season One
Danica had a secret relationship with Logan in Earth Boys are Icky as she didn't want her dad to find out because she's not allowed to date.
Relationships
Danica and Logan dated for a short period of time. Logan then thought about it because Danica hurt him in a friendly way so no one would know that they were dating.
Trivia
Her dad is the vice principal
Ad blocker interference detected!
Wikia is a free-to-use site that makes money from advertising. We have a modified experience for viewers using ad blockers

Wikia is not accessible if you've made further modifications. Remove the custom ad blocker rule(s) and the page will load as expected.