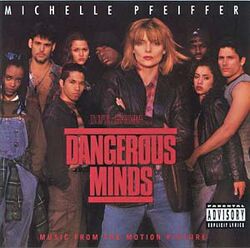 The Dangerous Minds Soundtrack is the official soundtrack to the 1995 film Dangerous Minds. The album was released in 1995 on MCA Records.
The soundtrack topped the Billboard 200 chart in 1995. By December 1995, it was certified triple platinum in sales by the RIAA, after sales exceeding 3,000,000 copies in the United States.
Release and reception
The album reached number one on the U.S. Billboard 200 and reached the second spot on the R&B albums chart. The album was certified platinum in September 1995 and triple platinum by December of the same year.
Stephen Thomas Erlewine of Allmusic called the soundtrack "an expertly-crafted urban R&B/hip-hop collection, featuring stellar production and songwriting from a number of the best and most popular artists of 1995."
Track listing
"Gangsta's Paradise" (feat. L.V.) - Coolio (Sample: "Pastime Paradise" by Stevie Wonder)
"Curiosity" - Aaron Hall (Sample: "Four Play" by Fred Wesley and the Horny Horns)
"Havin Thangs" - Big Mike
"Problems" - Rappin' 4-Tay
"True O.G." (feat. Static) - Mr. Dalvin
"Put Ya Back Into It" - Tre Black (Sample: "Cars" by Gary Numan)
"Don't Go There" - 24-K
"Feel the Funk" - Immature (Sample: "Love Changes" by Kashif)
"It's Alright" (feat. Craig Mack) - Sista
"A Message for Your Mind" - Rappin' 4-Tay (Sample: "I Want You Back" by the Jackson 5)
"Gin & Juice" (feat. Static) - DeVante Swing
"This Is the Life" - Wendy & Lisa
Chart history
Album
Chart (1995)
Peak
position
U.S. Billboard 200
1
U.S. R&B Albums
2
Singles
Year
Single
Peak chart positions
U.S. Billboard Hot 100
U.S. Hot Dance Music/Maxi-Singles Sales
U.S. Hot R&B/Hip-Hop Singles & Tracks
U.S. Hot Rap Singles
U.S. Rhythmic Top 40
U.S. Top 40 Mainstream
1995
"Gangsta's Paradise"
1
—
2
1
2
17
"Feel the Funk"
46
—
15
—
26
—
"Curiosity"
—
20
36
—
—
—
"—" denotes releases that did not chart.
Personnel
Information taken from Allmusic.
composing – Berry Gordy, Jr., Frank Hudson, Alphonso Mizell, Deke Richards, Danger Jay
executive production – Jerry Bruckheimer, DeVante Swing, Don Simpson
lyricist(s) – Aaron Hall
mastering – Herb Powers
music supervisor – Kathy Nelson
performer(s) – 24K, Big Mike, Tre Black, Coolio, Craig Mack, DeVante Swing, Aaron Hall, Immature, L.V., Danger Jay, Rappin' 4-Tay, Sista, Static, Wendy & Lisa
production – Bass Mechanics, Claudio Cueni, Dalvin DeGrate, Cyrus Esteban, Evil Dee, Danger Jay, Trevor Horn, Pimp C, Michael J. Powell, Doug Rasheed, Chris Stokes, Timbaland
soundtrack coordination – Lesley Allery, Kevin Breen, Christine Edwards, Bill Green, Todd Homme, Sylvia Krask
External links
| | |
| --- | --- |
| | This page uses content from the English Wikipedia. The article or pieces of the original article was at Dangerous Minds (soundtrack). The list of authors can be seen in the page history. As with Disney Wiki, the text of Wikipedia is available under the GNU Free Documentation License. |