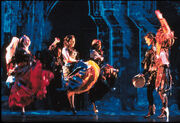 "
Tanz der Zigeuner (Dance of the Gypsies)
" replaces the song
The Court of Miracles
from the
movie
. On its own, it's a fun little instrumental dance number that provides levity before the show gets dark. Musically it sounds like Gypsy music with the melody from Tanz auf dem Seil.
Ad blocker interference detected!
Wikia is a free-to-use site that makes money from advertising. We have a modified experience for viewers using ad blockers

Wikia is not accessible if you've made further modifications. Remove the custom ad blocker rule(s) and the page will load as expected.