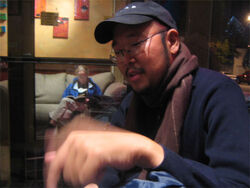 Dan Lee (May 19, 1969 – January 15, 2005) was a Canadian animator, best known as the creator of the title character from Finding Nemo.
He was born in Montreal, Quebec in 1969, the youngest of four children of Chinese immigrants and grew up in Scarborough, Ontario, a suburb of Toronto. He graduated with honours from the animation program at Sheridan College in Oakville, Ontario. He worked on television cartoons and commercials for several studios, including Kennedy Cartoons in Toronto and Colossal Pictures in San Francisco before joining Pixar in June 1996.
He worked as animator on Darkwing Duck, Bonkers, Aladdin and Goof Troop, while at Kennedy Cartoons. He was also an editor for Pocahontas II: Journey to a New World.
In August 2003 he was diagnosed with lung cancer despite the fact that he was a nonsmoker. He died in 2005, at the age of 35 in Alta Bates Summit Hospital, Berkeley, California, USA. The 2007 Pixar movie Ratatouille, was dedicated to Lee.
Filmography
External links
Dan Lee at the Internet Movie Database
| | |
| --- | --- |
| | This page uses content from the English Wikipedia. The article or pieces of the original article was at Dan Lee. The list of authors can be seen in the page history. As with Disney Wiki, the text of Wikipedia is available under the GNU Free Documentation License. |
Ad blocker interference detected!
Wikia is a free-to-use site that makes money from advertising. We have a modified experience for viewers using ad blockers

Wikia is not accessible if you've made further modifications. Remove the custom ad blocker rule(s) and the page will load as expected.