"
Dalmatian Plantation
" is a song in
One Hundred and One Dalmatians
and
101 Dalmatians II: Patch's London Adventure
by
Anita Radcliffe
and
Roger Radcliffe
. Disney Studio Chorus covered "Dalmatian Plantation" on the 2008 CD
101 Dalmatians and Friends
. This CD is available on Amazon.com.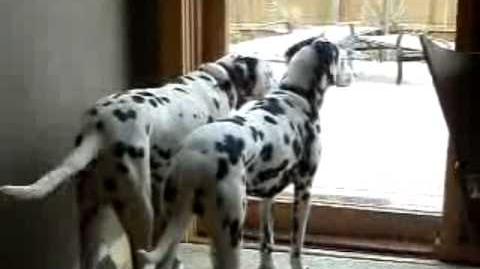 This song gets a reprise in; "Patch's London Adventure", mix in with; "I See Spots"?
Lyrics
We'll have a Dalmatian Plantation
Where our population can roam
If this new location
Our whole aggregation
Will love our plantation home
Dalmatian Plantation home
This version can be heard on the 1982 and 1990 book-and-tape editions of the story.
Dalmatian Plantation, so peaceful and proud
Blue skies and green meadows, no worries allowed
Dalmatian Plantation, good living in view
All hearts are contented with a dream come true

Oh, I love this place for its lazy pace
And its welcome on the door
For 101 different reasons
And soon there'll be more

Our searchin' is over, no more will we roam
Dalmatian Plantation is home sweet home
Bowwww-wowww-wowwwww!
This version plays on the "101 Dalmatians & Friends" Disk.
We'll have a Dalmatian Plantation, our rmp little place with a view
The peace and the quiet
We'll Identify it
As our little dream, that's come true!

Imagine that rustic location
The hills and the Evergreen trees
And Meadows of Clovers
To run on ovr
As fre as the Pine Scented Breeze.

We'll Snuggle close in the Evening
In the glow of burning logs.
And al night long
We'll hear the song of crickets and frogs

And there, we will grow and we'll prosper.
And nevr again will we roam
Can' wai to begin our
Sweet living that's in our
Dalmatian Plantation, Home!

We'll have a Dalmatian Plantation
Plantation Dalmatian, I say
Our Life Lng Vacation
Complet resgnatio
To sweet relaxation and play

With al of our remuneration
Our station seems truly sublime
And that my vocation
I'll feel inspiration
With no obligatio to time

I'll know we'll find consolation
In our nw location, Dear
And tails will wag
Within this aggregation, Dear

With hearts fll of pure jubilation
And no provkatioo to roam
We'll spend life's duration
Among Vegetation
Around our Plantation, Home!

Dalmatian Plantation, Home!

External Links