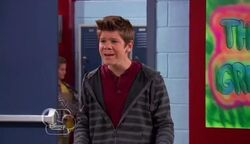 Dale Davenport
is an antagonist in
Jessie
. He is the 15 year-old school bully in the episode "Are You Cooler Than a 5th Grader?".
History
He likes to bully Luke and his best friends. He often bullies little kids, in an attempt to get them to give him food. He is shown to be obsessed with eating healthy. Many people are afraid of him - even the school lunch lady is afraid of him. If she had not been scared to testify on behalf of Dale, he would have been suspended. He constantly picks on Luke, Finch, and his brother Ravi, until the latter makes him eat a sandwich with Indian dragon fire peppers.
Ad blocker interference detected!
Wikia is a free-to-use site that makes money from advertising. We have a modified experience for viewers using ad blockers

Wikia is not accessible if you've made further modifications. Remove the custom ad blocker rule(s) and the page will load as expected.