Daddo Hugglemonster is one of the main characters of the Disney Junior show Henry Hugglemonster.
Appearance
He is a green monster with yellow-green wings.
Personality
Daddo is really silly, but yet fatherly. He can help out with the problems with his children and spending quality time with them. When he was checking for a recall a group or items, he tends to play around by forgetting Ivor is on his back. He is also a very talented juggler.
Trivia
Daddo is troop leader of the Monster Scouts.
Daddo can juggle numerous objects, such as food, watering cans, paint brushes, tires, steering wheels, even his own family.
Gallery
v - e - d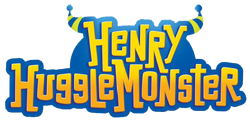 Songs
Have a Henry Hugglemonster Day | I've Got Pizzazz | To Monsterschool | The Hugglemonster Way | Roar it Up! | Number One Fan | Welcome to Our Home | Hugglemonster Manners | Wanna Touch the Sky | Being Big's Roarsome and How | Monster Heart | Grrrrls Just Wanna Roar | The Roaring Lion | Who Needs a Fang | Heromonsters Woohoo! | You Go Well Together | Everybody's Good at Something | Knit it Up | Play By the Rules | Make Your Own Fun! | So, So Roarsome
Ad blocker interference detected!
Wikia is a free-to-use site that makes money from advertising. We have a modified experience for viewers using ad blockers

Wikia is not accessible if you've made further modifications. Remove the custom ad blocker rule(s) and the page will load as expected.