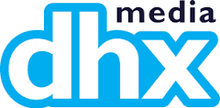 DHX Media, Ltd. (formerly Decode Halifax Media), is a Canadian media production, distribution, and broadcasting company. Formed in 2006 by the merger of Decode Entertainment and Halifax Film Company, the company is a prominent producer and international distributary of children's television.
In April 2015, Corus Entertainment announced that it had acquired Canadian rights to the program libraries of Disney Channel, Disney Junior, and Disney XD as part of a deal with Disney–ABC Television Group; DHX's existing deal with Disney, which covered programming across the four DHX Television services, ended in January 2016. In preparation for the end of these agreements, DHX launched Family Jr., Family Chrgd, and Télémagino, and DHX reached new output and development deals with Dreamworks Animation, AwesomenessTV, and Mattel, and acquired additional Canadian-produced series to make up for the loss of Disney programming.
On July 11, 2016, DHX Media will be an animation production for a Season 2 premiere of Star vs. the Forces of Evil instead of Mercury Filmworks or Toon City Animation.
Programming