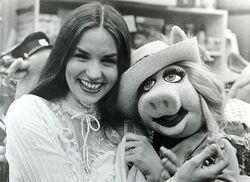 Crystal Gayle (born January 9, 1951) is an American country music singer, best known for her 1977 country-pop hit, "Don't It Make My Brown Eyes Blue".
Her Disney-related roles included a guest appearance in episode 402 of The Muppet Show and NBC Salutes the 25th Anniversary of the Wonderful World of Disney. Her song "I Made a Promise" was featured in Gordy.
Gallery
Ad blocker interference detected!
Wikia is a free-to-use site that makes money from advertising. We have a modified experience for viewers using ad blockers

Wikia is not accessible if you've made further modifications. Remove the custom ad blocker rule(s) and the page will load as expected.