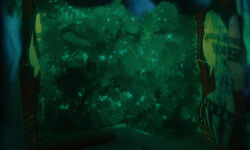 Crocodile Tongues are long, slimy creatures seen in James and the Giant Peach.
Appearances
James meets a mysterious man with a bag of magic green "crocodile tongues," which he gives to James to make his life better, as he is currently living with his two cruel aunts, Spiker and Sponge. The soldier describes that these magical "tongues" are "boiled in the skull of a dead witch for 20 days and 20 nights. Add the fingers of a young monkey, the gizzard of a pig, the beak of a parrot and three spoonfuls of sugar. Stew for a week, and then let the moon do the rest." The soldier then tells James that "marvelous things will happen" if he accepts the "tongues," to which James agrees. The soldier then warns him not to lose the "crocodile tongues," or else  "they'll work their magic on whoever or whatever they meet first," and disappears. When James returns to his aunts' house, he trips and the "tongues" escape into the ground. Shortly after, the magic from the "tongues" causes a peach on a withered old tree to grow to a giant size. Later, when he finds the same bag, he comes across one that hasn't escaped, and it grants him its magic. James sneaks inside the peach and finds a group of insects who have become human-like from the magic of said "tongues."
Gallery
Ad blocker interference detected!
Wikia is a free-to-use site that makes money from advertising. We have a modified experience for viewers using ad blockers

Wikia is not accessible if you've made further modifications. Remove the custom ad blocker rule(s) and the page will load as expected.