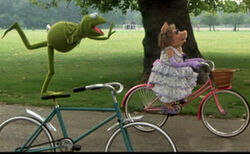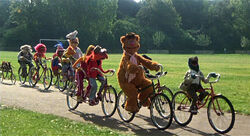 "Couldn't We Ride" is a song from The Great Muppet Caper, signaling the reconciliation between Kermit and Miss Piggy while presenting an idyllic view of cycling. Kermit and Piggy take a bike ride in a London park. At one point, Kermit decides to do a few tricks, such as riding without his hands on the bars, riding with one foot on the seat, and a handstand. The last trick causes him to become stuck in a tree, and he falls into Miss Piggy's arms on her bicycle. At the end of the song, they are joined by other Muppets and people on bicycles.
Brian Henson assisted in the filming of this scene, which required an elaborate marionette device to have the Muppets ride the bicycles.[1] A nearly invisible wire was tied to Kermit and Piggy's bikes, and the group of bikes at the end were all tied together by invisible wires. These were pulled by two large tricycles, which can be seen very far into the background, and one of which was ridden by Brian Henson.[2] This sequence was the first scene in the movie that was shot.[3]
This clip was seen in The Muppets: A Celebration of 30 Years, introduced by Lew Zealand, who mentioned that this was his favorite movie scene.
Lyrics
Kermit:
Pretty day
Sunny sky
Lovely pictures
Dance in your eyes

Miss Piggy: It all seems so right
Kermit: It all seems so rare

Miss Piggy:
Summer soft
Sudden breeze
Watch the wind
Play tag in the trees

Miss Piggy and Kermit:
The world is so bright
So perfectly fair

Chorus:
Lovers sing
Children dance
For a minute
We've got a chance

Kermit: Why couldn't we fly
Miss Piggy: I know we'd get by

Chorus:
Sunny sky
Pretty day
Just a push
And we're on the way

Chorus: Yes couldn't we ride
Miss Piggy and Kermit: Side by side

Miss Piggy and Kermit: Why couldn't we fly
Kermit: I know we get by

Gonzo: Sunny sky
Fozzie: Pretty day

Janice and Floyd Pepper:
Just a push
And we're on the way

Scooter: Yes couldn't we ride

Miss Piggy and Kermit:
Side by side
Couldn't we ride

Sources
↑ Finch, Christopher Jim Henson: The Works
↑ Henson, Jim Secret of the Muppets
External Links
Falk, Karen. "Jim Henson's Red Book", 9/4/1980 – Begin shooting The Great Muppet Caper! Begin in Battersea Park – bicycle sequence – Brian operates Marionettes.
| | |
| --- | --- |
| | This page uses Creative Commons Licensed content from Muppet Wiki. The list of authors can be seen in the page revision history (view authors). As with Disney Wiki, the text of Muppet Wiki is available under the CC-by-SA Free Documentation License. |
Ad blocker interference detected!
Wikia is a free-to-use site that makes money from advertising. We have a modified experience for viewers using ad blockers

Wikia is not accessible if you've made further modifications. Remove the custom ad blocker rule(s) and the page will load as expected.