Cornelius Coot
Comments

0
29,215pages on
this wiki
Cornelius Coot
Background information
Feature films
Television programs
Video games
Park attractions
Mickey's Toontown Fair
Portrayed by
Portrayed by
Animators
Voice
Performance model
Designer
Inspiration
Honors and awards
Character information
Full name
Cornelius Coot
Other names
Personality
Appearance
Birthday
Occupation
Alignment
Affiliations
Alignment
Goal
Home
Relatives
Clinton Coot (son), Elvira Coot (granddaughter)
Pets
Allies
Minions
Enemies
Likes
Dislikes
Powers and abilities
Weapons
Fate
Quote
[Source]
Cornelius Coot is the founder of the city of Duckburg and Grandfather of Grandma Duck, which makes him Donald Duck's great-great-grandfather.
During Cornelius's stay in Fort Drake Borough, it was attacked by Spanish soldiers. When the British were incapable of defending the fort, the commander made a deal with Cornelius: the fort would pass to his property so the British wouldn't be responsible if the Spanish took it. Cornelius agreed, and then popped some corn to make it sound like shots, which made the Spanish troops run away.
Cornelius renamed the fort as Fort Duckburg and turned it into a trading camp for hunters. Several people began to settle down and form families, and Cornelius himself started a farm of his own. A village was formed in Duckburg, with Cornelius as the leader.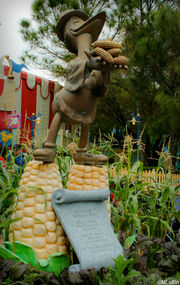 In modern times, Duckburg has a statue of Cornelius Coot holding corn. It can be seen in several comic stories, and also had a cameo in the
DuckTales
episode "
Ducks on the Lam
". A real-life version of the statue was also built in
Mickey's Toontown Fair
. The Toontown version includes the legend:
This Is Old Cornelius Coot
Who Turned His Corn Crop Into Loot
And Founded Mickey's Toontown Fair
To Him We Dedicate This Square.
The Cornelius Coot statue first appeared in "Statuesque Spendthrifts" by Carl Barks. Cornelius himself has appeared in scenes of the past in Don Rosa's stories.