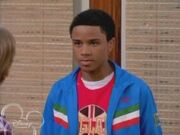 Cooper
(André Jamal Kinney), (born April 7, 1990) also called
Coop
, is
Jackson
's best friend who appears in season one and the two are often seen hanging out together. Cooper has not made an appearance outside of season one, although he is mentioned and it's assumed they still hang out. Cooper often plays the straight man to Jackson's antics. He works at a movie theater called "Nick's Fat City." He enjoys Shirley Temple cocktails, calling them "fruity and refreshing." He also has a secret love of baking; something he keeps secret because he believes it is a primarily female activity.
Cooper has a little sister named Olivia (Rae'Ven Larrymore Kelly) who is a student on the East Coast. In "I Can't Make You Love Hannah if You Don't," Olivia visits Malibu on break where she meets Jackson. She agrees to go out with Jackson before he learns she is Cooper's sister. The incident causes a temporary rift in Jackson and Cooper's friendship. They are good friends again after Cooper realizes that everything was Olivia's fault.
Cooper appears in "Miley Get Your Gum", "She's a Supersneak", "I Can't Make You Love Hannah If You Don't", "It's a Mannequin's World", "Oops I Meddled Again", and "Money for Nothing, Guilt for Free". Cooper is mentioned but unseen in the episodes "My Boyfriend's Jackson and There's Gonna Be Trouble" and "Bad Moose Rising" where he and Jackson have plans to go to a Los Angeles Dodgers game. In "You Give Lunch a Bad Name" Jackson says he had to miss Coop's party because Mamaw came to visit.
Ad blocker interference detected!
Wikia is a free-to-use site that makes money from advertising. We have a modified experience for viewers using ad blockers

Wikia is not accessible if you've made further modifications. Remove the custom ad blocker rule(s) and the page will load as expected.