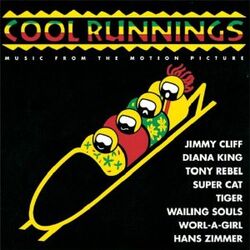 The
Cool Runnings Soundtrack
features songs from and inspired by the film
Cool Runnings
.
History
The album with 11 tracks was released by Sony in 1993 on compact disc (Columbia/Chaos OK 57553).
In some European countries the soundtrack album was released by Sony with a 12th (bonus) track being Rise Above It performed by Lock Stock and Barrel (Columbia 474840 2). Songs from the sound track also featured in a little know musical "Rasta in the Snow", which was based on events of the real Jamaican sled team.
Tracks
Wild Wild Life - Wailing Souls
I Can See Clearly Now - Jimmy Cliff
Stir It Up - Diana King
Cool Me Down - Tiger
Picky Picky Head - Wailing Souls
Jamaican Bobsledding Chant - Worl-A-Girl
Sweet Jamaica - Tony Rebel
Dolly My Baby - Super Cat
Love You Want - Wailing Souls
Countrylypso - Hans Zimmer
The Walk Home - Hans Zimmer
Ad blocker interference detected!
Wikia is a free-to-use site that makes money from advertising. We have a modified experience for viewers using ad blockers

Wikia is not accessible if you've made further modifications. Remove the custom ad blocker rule(s) and the page will load as expected.