Connie Thompson
Comment

1
19,103pages on
this wiki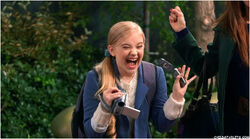 info was provided
http://disneyjessieseries.wikia.com/wiki/Connie_Thompson
Connie T​hompson (aka "Creepy Connie") is a twelve-year-old girl who has an obsessive, pyschotic crush on Luke. In Creepy Connie Comes a Callin' (her debut episode and, to date, her only main appearing episode) she pretends to be his math tutor to fool Jessie who isn't aware of how crazy Connie really is. Connie wrongingly accuses Jessie and Luke of being a couple. Throughout the episode Jessie soon finds out who she really is; when Connie breaks into the Ross house dressed as a dementor from Harry Potter, everyone realizes that she's a psycho, except for Luke who knew it all along.
Appearances
Edit
Creepy Connie Comes a Callin' (First appearance)
Creepy Connie's Curtain Call
Connie is a huge fan of Harry Potter.
Connie has a knife collection, as said when Connie needs to fulfill the task of making a wand for Luke for the Harry Potter-themed party.
She has broken and entered the Ross house in the middle of the night to steal Kenny from Luke.
She believes that if you really love someone, you can look past any flaws.
Connie likes to video-tape/take pictures of Luke in class.