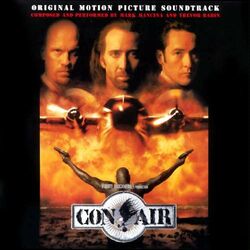 Con Air Soundtrack
is the official soundtrack from the
Touchstone Pictures
film
Con Air.
History
The soundtrack album omits two songs featured in the film: "How Do I Live", written by Diane Warren and performed by Trisha Yearwood and "Sweet Home Alabama" by Lynyrd Skynyrd. Although a key element of the film, Mick LaSalle of the San Francisco Chronicle noted, "the soundtrack kicks into loud, obtrusive gear ... (and) remains so loud throughout the picture that it practically functions as a distancing device."
Tracks
"Con Air Theme" – 1:34
"Trisha" – 1:04
"Carson City" – 3:05
"Lear Crash" – 4:44
"Lerner Landing" – 3:28
"Romantic Chaos" – 1:23
"The Takeover" – 3:52
The Discharge" – 1:09
"Jailbirds" – :59
"Cons Check Out Lerner" – 1:56
"Poe Saves Cops" – 2:25
"The Fight" – :23
"Battle In The Boneyard" – 7:41
"Poe Meets Larkin" – 1:16
"Bedlam Larkin" – :49
"Fire Truck Chase" – 4:22
"Overture" – 4:19
Details
Audio CD (June 17, 1997)
Original Release Date: June 6, 1997
Number of Discs: 1
Format: Soundtrack
Label: Hollywood Records
ASIN: B000000OGP
Ad blocker interference detected!
Wikia is a free-to-use site that makes money from advertising. We have a modified experience for viewers using ad blockers

Wikia is not accessible if you've made further modifications. Remove the custom ad blocker rule(s) and the page will load as expected.