Combat Carl
Comments

0
25,131pages on
this wiki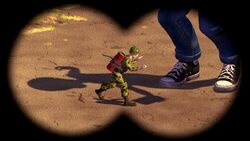 Combat Carl is Sid's G.I. Joe type action figure in Toy Story. He, like so many others, was blown to pieces in Sid's backyard.
Toy Story
A Combat Carl was first seen when Andy's toys watched Sid blow one up with a M-80 in his backyard. Later, once in Sid's room, Woody spots a lava lamp with two Combat Carl heads and one doll head. Two of Sid's mutant toys also contain Combat Carl parts; Jingle Joe has a Combat Carl Head, while Rockmobile contains a Combat Carl torso. When the Sid's toys show Sid that they are alive, two broken Combat Carls, both all covered in mud, rise up from the ground, awakened by the Frog. One is missing its arms and has a nail through its head, the other has a twisted body and is missing its head.
Combat Carl was seen again in the first part of the Green Army Man Chants video. He was in Andy's room, marching with Andy's Green Army Men.
He appeared in the Toy Story half-hour special, Toy Story of Terror! and is voiced by Carl Weathers.
Gallery
Trivia
In the DVD commentary for Toy Story, John Lasseter mentions that he had actually wanted to use a G.I. Joe in the film, but Hasbro was upset that they were going to have Sid blow it up and wouldn't let them use it.
The Combat Carls are, in fact, the same (albeit blown up) models as some of the Green Army Men. This is mentioned in the Toy Story commentary.
There was originally going to be another Combat Carl with a broken arm accompanying the two others in Sid's backyard; however, he (and many other toys) never made it past the storyboards.
Combat Carl was originally to appear in Toy Story 3 before his part was rewritten for the Chatter Telephone.
Combat Carl was the first Pixar character to die.