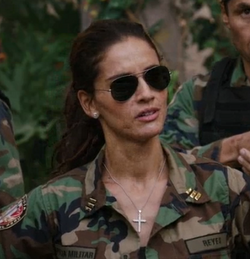 Comandante Camilla Reyes is the antagonist of the Agents of S.H.I.E.L.D. episode "0-8-4". She originally worked alongside Phil Coulson before he joined S.H.I.E.L.D. It is assumed they had a romantic relationship, as Reyes tried to use it as a distraction towards Coulson.
History
Camilla Reyes is the commander of the Policía Militar de Perú (military police of Peru). When the agents of S.H.I.E.L.D. investigate an 0-8-4, an object of unknown origin, she and her soldiers show up also. When he soldiers and agents are attacked by Peruvian rebels, they go to The Bus where the soldiers attempt to take down the agents and steal the 0-8-4, which is determined to be a powerful super-weapon. The agents finally team up against their "common enemy" and take down Reyes' forces. She is sent to a S.H.I.E.L.D. containment unit but Coulson believes that soon the Peruvian government would negotiate her freedom.
Ad blocker interference detected!
Wikia is a free-to-use site that makes money from advertising. We have a modified experience for viewers using ad blockers

Wikia is not accessible if you've made further modifications. Remove the custom ad blocker rule(s) and the page will load as expected.