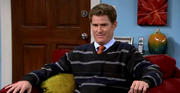 Coach Gordon Lesseur
is the gym teacher at
John Hughes High School
in the series
Shake It Up
. He appeared in the episode "Sweat It Up". He is portrayed by Jamie Kaler.
Background
His first name is Gordon, is probably in his mid-forties, and seems to have a habit of repeating his words and answering his own questions. He is easily fooled by lot's CeCe's acting skills when she pretended to have a problem with her leg. He dated Georgia Jones in "Sweat It Up" and helped her pull a prank on CeCe.
Ad blocker interference detected!
Wikia is a free-to-use site that makes money from advertising. We have a modified experience for viewers using ad blockers

Wikia is not accessible if you've made further modifications. Remove the custom ad blocker rule(s) and the page will load as expected.