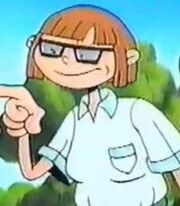 Coach Doogan
[1]
(voiced by
Kathy Najimy
)
[2]
[3]
as the name suggests, is the PE coach at
Hazelnut Middle School
who teaches the
Pepper Ann
and the other students.
In "In Support of" she informs Pepper Ann's class that they need "support" for the upcoming trampoline lesson. Pepper Ann mistakes this as the coach saying that she needs a bra and spends the episode worrying and shopping for a bra. However it turns out that she meant they needed a partner to support them in the lesson.
References
Ad blocker interference detected!
Wikia is a free-to-use site that makes money from advertising. We have a modified experience for viewers using ad blockers

Wikia is not accessible if you've made further modifications. Remove the custom ad blocker rule(s) and the page will load as expected.