Ad blocker interference detected!
Wikia is a free-to-use site that makes money from advertising. We have a modified experience for viewers using ad blockers

Wikia is not accessible if you've made further modifications. Remove the custom ad blocker rule(s) and the page will load as expected.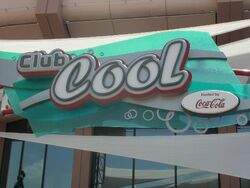 Club Cool
is a small attraction located at the Innoventions west Pavilion at
EPCOT
. It was opened in 2005, replacing Ice Station Cool, and just like that time it's sponsored by
Coca-Cola
.
Inside
The attraction features a small taste of the world of Coca-Cola Company, where the visitors can taste soft drinks from around the world and buy Coca-Cola merchandise.
Flavors Around the World
Just like its predecessor, Club Cool also features a series of soft drinks of the world that can be tried by the visitors, this time all the drinks were replaced instead of two of them.
Guarana Quat (Brazil)
Inca Kola (Peru)
Sparletta (Zimbabwe)
Vegita Beta* (Japan)
Bibo (South Africa)
Fanta Melon Frosty (Thailand)
Beverly* (Italy)
Fanta Pineapple (Greece)

* Were also featured in Ice Station Cool