All info provided http://adjl.wikia.com/wiki/Clooney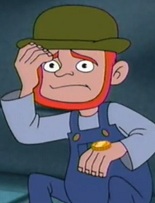 Clooney is a Leprechaun featured in the animated television show American Dragon: Jake Long. He is seen in the episode "The Hunted".
Clooney is very unlucky. When he calls tails on his coin toss, he gets heads. When he calls heads, he gets tails. When his thumb gets hit, a swollen red bump appears. He is allergic to pollen which makes him sneeze. Storm clouds can happen a lot when Clooney is very unlucky. He was captured by the Huntsclan along with Jake, Silver, Bertha, and Reggie.
A Leprechaun from the Legend of the Dragon Tooth looks similar to Clooney but with a different voice, while he was playing a game with Fu, Gramps, a Pixie, an Ogre, and an Elf.
Clooney is balding beneath his hat.