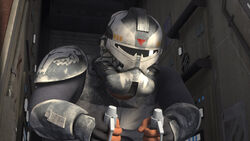 Clone Trooper Commanders
were clone troopers that were bred with special training and leadership skills to lead Clone Troopers in battles. They received special training and they customized there armor such as customizing there battalion colours and they equipped with visors, pauldron and etc...
Commander Cody
and
Commander Wolffe
were clone commanders.