Ad blocker interference detected!
Wikia is a free-to-use site that makes money from advertising. We have a modified experience for viewers using ad blockers

Wikia is not accessible if you've made further modifications. Remove the custom ad blocker rule(s) and the page will load as expected.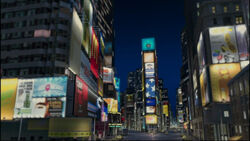 "Clocks" is a song by British alternative rock band Coldplay. It was written by all members of the band for their second album, A Rush of Blood to the Head. Built around a piano riff, the song features cryptic lyrics of contrast and urgency themes. Several remixes of the track exist and its riff has been widely sampled.
"Clocks" debuted to critical and commercial success, with critics mainly commenting on the song's piano melody. It was released in the United Kingdom as the third single from A Rush of Blood to the Head, where it reached number nine in the UK Singles Chart. It was released in the United States as the album's second single, it reached number 29 on the Billboard Hot 100 and number 9 on Billboard's Modern Rock Tracks chart. It won the Grammy Award for Record of the Year.
This song was also used in the 2006 Disney film The Wild.
Lyrics
The lights go out and I can't be saved
Tides that I tried to swim against
Have brought me down upon my knees
Oh I beg, I beg and plead, singing

Come out of things unsaid
Shoot an apple off my head and a
Trouble that can't be named
A tiger's waiting to be tamed, singing

You are
You are

Confusion never stops
Closing walls and ticking clocks
Gonna come back and take you home
I could not stop that you now know, singing

Come out upon my seas
Cursed missed opportunities
Am I a part of the cure?
Or am I part of the disease? Singing

You are, you are, you are
You are, you are, you are

And nothing else compares
Oh nothing else compares
And nothing else compares

You are
You are

Home, home where I wanted to go
Home, home where I wanted to go
Home, home where I wanted to go
Home, home where I wanted to go