Cleo
Background information
Feature films
Pinocchio
Fun and Fancy Free
Mickey's Magical Christmas: Snowed in at the House of Mouse
Mickey's House of Villains
Television programs
Aladdin (cameo)
DuckTales (cameo)
House of Mouse
Video games
Pinocchio
Disney's Villains' Revenge (cameo)
Kingdom Hearts
Kingdom Hearts 3D: Dream Drop Distance
Park attractions
Portrayed by
Portrayed by
Animators
Eric Larson
Voice
Performance model
Designer
Inspiration
Honors and awards
Character information
Full name
Other names
Personality
Kind, sweet, loving, loyal, beautiful, cute
Appearance
Small and slender goldfish, magenta lips, blue eyes
Birthday
Occupation
Geppetto's goldfish
Alignment
Affiliations
Alignment
Good
Goal
To reunite with Pinocchio (succeeded)
To escape Monstro (succeeded)
Home
Geppetto's Workshop
Relatives
Pets
Allies
Geppetto, Pinocchio, Jiminy Cricket, Figaro
Minions
Enemies
Monstro
Likes
Geppetto, being petted and tickled, kisses from Figaro
Dislikes
Pinocchio's name (formerly), starvation
Powers and abilities
Jumps, swimming abilities
Weapons
Fate
Celebrates Pinocchio, now a real boy, with Figaro.
Quote
[Source]
Cleo is Geppetto's pet goldfish and the third tritagonist in Disney's 1940 film Pinocchio. She seems to like Figaro and even gave him a kiss. She is very sweet and kind and loves Geppetto dearly.
Appearances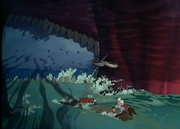 Cleo is always seen in her fishbowl and swims away in reverse when she sees Pinocchio in his marionette stage. She also twirls and smiles every time she responds 2 Pinocchio's greetings. The cutest thing that she does in the movie is jumping right up from her fishbowl and kisses Pinocchio and Figaro on the lips. A squeak sound effect is heard when she does this. Geppetto affectionately calls her a water baby and a mermaid. Cleo is one of those who are onboard the raft while escaping from Monstro.
Cleo appeared when Jiminy gave her a smile, but she got scared after awhile.
Figaro & Cleo
Cleo did appear with Figaro in Mammy Two Shoes' house in which they were pets 2 her after Pinocchio was released.
Cleo makes a cameo appearance in the film.
Cleo also made a cameo in one episode inside the whale with Figaro, while Genie looked like Geppetto.
Cleo makes a cameo in the DuckTales series being the Gyro Gearloose fish when using your watch to the time.
Cleo makes occasional appearances in House of Mouse. In "The Mouse Who Came to Dinner",she makes a cameo sitting with Geppetto, Pinocchio, and Figaro clapping after the cartoon.
In Kingdom Hearts, Kingdom Hearts II and Kingdom Hearts 3D: Dream Drop Distance, Cleo is a background character who is often found alongside Gepetto.
Darkwing Duck (comic book)
Cleo makes a cameo on the last page of issue #7 of the Darkwing Duck comic book, along with Sebastian and Dory, reacting in shock to the return of the monstrous Paddywhack.
Cleo appears as an Audio-Animatronic on Pinocchio's Daring Journey who pops up and down from her fishbowl in Geppetto's bedroom located in the Pinocchio Village Workshop. She also appeared in the Walt Disney's Parade Of Dreams as an Audio-Animatronic who swims in circles inside her fishbowl on top of the Dreams Of Laughter parade float.
Gallery